These are the types of enemies that you will encounter while role playing.
Ghoul
Theses are basic enemies and are very common. They are humans who were mutated by Cloak's weapon. They have all the same weakness as a normal human.
Brute
These are more mutated ghouls. their bones are stronger so it usually takes more to take them down. They are only found in cities.
Licker
These mutated dogs have very tough skin but an exposed brain. They like to strangle prey with their tongues.
Scoroat
These are scorpions that ate infected flesh of a goat. They have tough armor and few week points.
Skelecat
These cats are a medical marvel, no organs, but somehow they move.
Vampire
These ghouls can fly and drink human blood.
Witch
These psychotic women are only partly mutated, they can still think, but they only think of the best way to kill anyone.
Hunter
These men like to stay in cities so they can hide easily and pounce on their prey. Their superhuman ability to jump makes them a difficult mutant to fight.
Blob
These masses of flesh are like giant balloons filled with acid and other dangerous chemicals.
Tank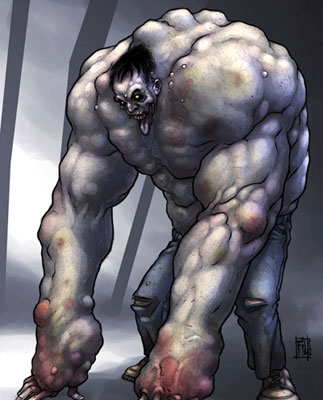 these humans mutated to have very think skin and they are very strong. they are tough to bring down alone.
_________________
I live only for myself
I answer to only me
I live life my own way
No way i am gonna let fate
Choose how my story ends
Vergil wrote:

Might controls everything, and without strength you cannot protect anything. Let alone yourself.